School Building Design – 5 Modern Concepts
Designing a school can be more of a challenge than anticipated. Not only are schools a place for education, but also should serve as a place to encourage inspiration and curiosity. Aside from developing a building capable of supporting these two factors, schools must also be designed with durability and safety in mind due to the wear-and-tear they will be exposed to over the years.
Modern school building designs can vary greatly in appearance, from modest private schools with a single main building, to expansive public schools that may house hundreds of children. However, all great modern school building designs should share similarities in safe structural designs, non-toxic and eco-friendly materials, and features that promote a more comfortable, stimulating atmosphere.
Here are five examples of real schools that have adopted and flourished with the addition of modern architectural concepts.
1. Strive for new additions to be modern & sustainable – Gentofte School
(Modern & Sustainable School, by Arkitema Architects, photo by Niels Nygaard)
Located in Denmark, the Gentofte school has been open since 1944, but built an eye-catching new addition in 2014. Many schools with deep, historical roots can enhance their institution by designing modern, sustainable additions while still maintaining their older school buildings. This two story addition was built for roughly 100 students for classes as well as after school activities. Clad in Kebony, this addition requires very little care and is an ideal backdrop for the future 'vertical forest' that will be planted and grow over it, housing birds and insects to serve as a unique educational experience.
2. Take advantage of natural lighting and creative window placement – Mesterfjellet School
(Mesterfjellet School, by SPINN Arkitekter, CEBRA, Various Architects, Østengen & Bergo, photo by Mikkel Frost)
A beautiful example of modern Nordic architecture is the Mesterfjellet school in Larvik, Norway. One look at this unique school building, and you'll immediately be drawn to the numerous windows throughout. Not only is the number of individual windows substantial, but they also vary in size and placement. Windows offer a very utilitarian but important function of bringing in more natural lighting. The Mesterfjellet school's expansive window display is as functional and eco-friendly (i.e. reduces artificial light needs) as it is artistic.
3. Express creative freedom with striking non-uniform classrooms – Fredrikstad Waldorf School
(Waldorf School, by LINK Arkitektur, photo by Jiri Havran)

The idea of Waldorf education was developed back in 1919, but the same principles of creative encouragement and inspiration of children can be carried into modern building design. The Fredrikstad Waldorf school is very distinctive in appearance and almost playful, with its elevated buildings and pops of color on the exterior. The classrooms are non-uniform in design, helping the Waldorf mindset prosper by avoiding "institutional" cookie-cutter rooms. This school is located in a woodland setting and blends in with the surroundings, giving the children and staff a more intimate feel of being within nature.
4. Impressive dimensional exterior with an eco-friendly design to reduce maintenance – Helle School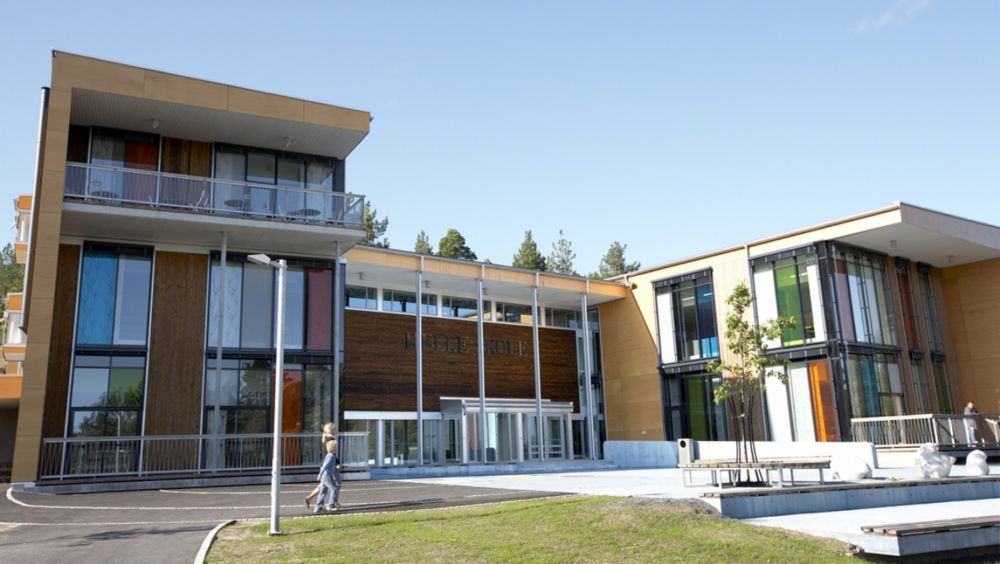 (Helle School, by Børve & Borchsenius)
The modestly-sized Helle school has a simple but beautiful design. Located in Telemark, Norway, the Helle school was once two separate schools that were brought together into one establishment. The flat roofs and mixed materials used in construction really give this school a dimensional, modern feel to it. Kebony cladding was used to give the exterior a warm, comfortable look while ensuring that the school would be eco-friendly and require very little maintenance. The addition of stone, metal and even stained glass gives this building a memorable appearance that children as well as adults will find attractive.
5. A contemporary campus with a rustic feel and green architecture – Jack & Jones Campus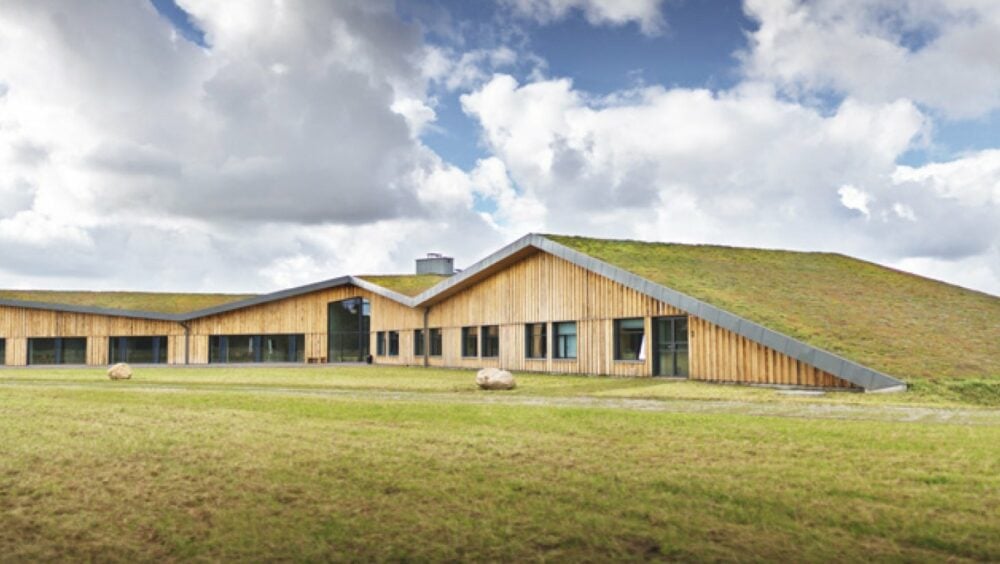 (Jack & Jones Campus, by Bay Arch, photo by Kristian Juul Pedersen)

Although not a school, the Jack & Jones campus is still a place of education and features a highly inspirational design that can be carried over to traditional school buildings. Immediately, you will be captivated by the living vegetative roof of this building as well as the angled roof line. The wood cladding adds an even more natural feel and the Kebony decking provides ample walkway space. The various windows and sliding glass doors add a modern touch to the rustic design. Green building designs aid in natural insulation and help reduce negative environmental effects and energy usage. This modern campus design should be highly considered for these two main reasons.
Modern school building designs come in all shapes and sizes, some of which are quite extravagant, while others are attractively simple. The five concepts for modern school architecture featured serve as inspiration for future schools that have a goal of sustainable design. Even in retrofit applications, many of the ideas shown here, such as Kebony cladding and expanded window placement, can be included in school remodels with excellent results.