Pool decking
Whether you already have a pool or have been debating the addition, there's no doubting the fact that an outdoor pool is a great way to enhance the fun and functionality of your backyard come summer. In addition, the deck around your pool provides more usable space for entertaining or just relaxing. Many pools were traditionally installed with a surrounding concrete patio, however several issues come from this including it getting too hot in the summer, being subject to freeze/thaw cycles in cold weather and also falling short of being particularly attractive. Modern pool decking is different; it helps create an outdoor living space you actually want to spend time in and perfect for entertaining family and friends. These 7 modern pool decking ideas will help you see what's possible for your own yard.
1. Spa Reminiscent
Photo by Christopher Lawson
Who doesn't want a backyard that harnesses the simple beauty and peaceful tranquility of a fancy health spa? Paired with subtle, built-in lighting and customized to the pool's unique shape, this wooden deck has a natural appeal that will transport you to a calming getaway every time you step outside.
2. Private Getaway
Photo by Ed Kingsford Photography
Why settle when you can have it all? Create the ideal outdoor living space by combining luxury and function. Complete with an outdoor kitchen, pool, spa and plenty of lounging space all connected by a wooden deck to support the flow and design; this backyard makes indoors seem old-fashioned.
3. An Extension of the House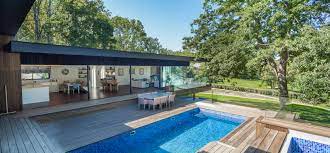 Photo by Julian Winslow
Who says that inside and outside spaces have to be kept separate? By blurring the boundary with large plate glass windows, this home's pool and deck serve as an extension of the house itself. And by using the same material for both the wood cladding and wood decking the design harmoniously flows from one area to the next.
4. Weathered Wood Beauty
Photo by Salih Usta
Aging gracefully is an art that wood has simply perfected. Take driftwood for example, the subtle gray color and charming imperfections, only achieved through natural weathering of the ocean's embrace is almost poetic. Wood's ability to envelop the dignity of age and do it while maintaining its refined beauty is why that silver-gray patina is so sought after. This pool is a perfect example of how wood decking only gets better with age.
5. Elegant Simplicity
Photo By do mal o menos
Set in the heart of a sprawling vineyard, it didn't take much effort to make this hotel pool look stunning. The wood deck, simple in its design, speaks volumes by quietly complementing the pool's clean lines and highlighting the organic colors of the rustic landscape.
6. Natural Richness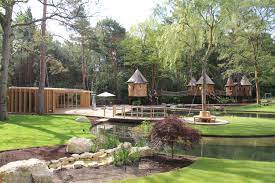 Photo By Blue Forest
One trend that's quickly growing in popularity is creating pools that are more natural in appearance, as opposed to the rectangular boxes that we all grew up with. In this tree house village, natural pools are used to help create the fairytale-like feel of the retreat. The wooden decks and walkways that wind throughout the village are equally as unique, making for a very different style in pool decks.
7. Complementary Material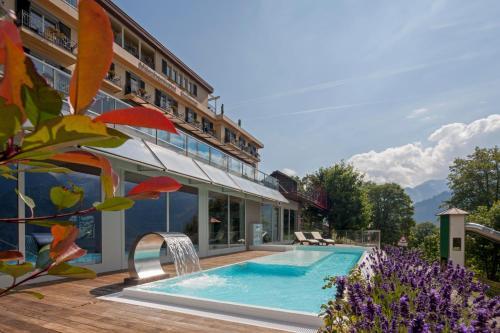 Photo By Märchenhotel Bellevue
Infinity pools lend themselves to yet another unique design experience. The design of this pool deck uses the straight lines of the wood decking to help elongate the pool's appearance and emphasize the endless effect of the water. In addition, the natural wood decking used complements the surrounding scenery, adding to the overall look and feel of the space.
Considerations for Your Modern Pool Design
There are many things to consider when designing your pool deck from pool lighting to pool drainage to name a few. One thing to keep in mind as you begin the process is that having a nice outdoor living space with good landscaping can account for up to 20 percent of your home's overall value. This means the decisions you make while developing your pool deck are even more important than you may have previously thought.
The first thing to consider when designing your pool deck is what function you want the space to serve. For example if you plan on including an outdoor kitchen or seating area, then perhaps you want a material that can be used for more than just decking to ensure your design flows well and complements itself. Or if outdoor lighting is something you think you'll need, choose a decking that is easy to install lights in, like wood. Taking the time to think about what and how your outdoor living space will be used will help you save time and money in the long run.
Once you understand the function better you'll be ready to determine the material for your pool deck. Material choice is crucial. You want your deck to last so the material needs to be able to withstand exposure to moisture as well as the various weather conditions you experience. Level of maintenance required is also a key aspect to factor in. There are many options to choose from when it comes to pool decking material like concrete, natural stone, treated lumber and composite decking. However, if durability, low-maintenance requirements and appearance matter to you, then you'll probably want to look at modified wood.
Modern pool decking has come a long way from the ubiquitous cement slab. Today's deck is organic, and functional, with a beauty that will stand the test of time. Consider the styles and features of these properties when creating the modern pool deck of your dreams.
Good things to know – before building your pool deck
Read our article about "Pool deck – everything you need to know before building your wood pool deck"