13 Distinct Vertical Wood Siding Designs
The finishing touch of every building or outdoor structure is the siding you choose to place on it. Although the physical shape and attributes of the building itself will show if the architect was aiming for a modern or perhaps a rustic look, the siding can have a significant impact on the final result. Natural wood siding is also a classic option and one with very few, if any, limitations.
Featured below are 13 distinctive and unique buildings that all share one common factor: vertical wood siding. Placing siding vertically rather than horizontally is a fairly simple change, but one that can lead to some very beautiful and dramatic results.
1. An outdoor living space expanded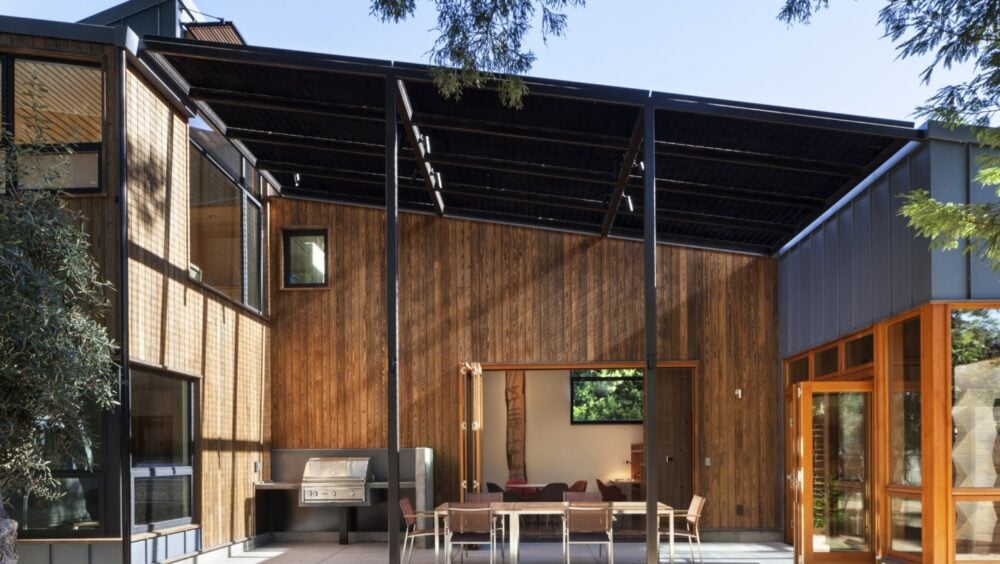 (The Wedge House, by Fernau & Hartman, photo by Richard Barnes Photography)
The Wedge House is the epitome of the indoors-brought-outdoors trend. This outdoor covered living space joins the home together seamlessly. The use of long Kebony planks placed vertically along the main wall makes this area seem even taller than it already is. Opting for vertical wood siding rather than vinyl or some other man-made material ensures a natural look is maintained. Consider that the entire building doesn't need to be clad in vertical siding to still benefit from the heightened effect.
2. Variances in patterns create dimension
(Knarvik Kindergarden, by Tysseland Arkitektur)
Knarvik Kindergarden is instantly intriguing with both vertical and horizontal Kebony siding. As a general rule, vertical siding gives a building height while horizontal siding gives length. By combining both in a purposeful manner, you can heighten certain building features while also cladding wall faces to make a building seem more expansive. Regardless of exactly which route you take, mixing in vertical wood siding is going to give your building far greater dimension that any uniform cladding.
3. Play up height even more on tall buildings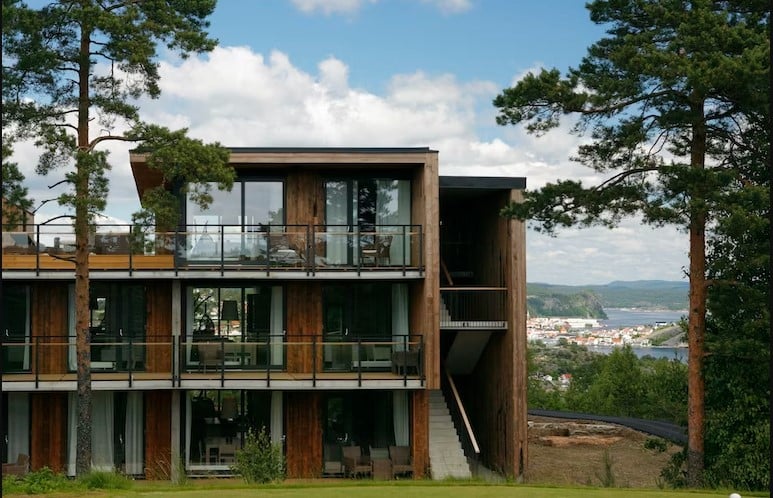 (Kragerø Resort & Spa Hotel, by Lund Hagem Arkitekter)
Kragero Resort spa and hotel buildings are already fairly tall in size, but rather than trying to deemphasize the height, the designer chose to play it up even more with vertical Kebony siding. Being surrounded by open grassy areas and a few trees, these buildings look almost towering in appearance. Remember, you don't always need to balance height and width. Focusing on height alone can really make for an eye-catching project.
4. Cleverly designed vertical siding and open slats
(Valley Villa, by Arches)
This charming villa focuses heavily on simple, clean lines and angles. The vertical siding gives this one-story home a little more height and the Kebony flows seamlessly across the roof and exterior walls. What makes this otherwise compact building stand out is the addition of vertical slats placed over a portion of the recessed windows and glass doors. The result is quite contemporary and unique, but also aids in privacy and shading the interior of the home.
5. A sleek, modern home addition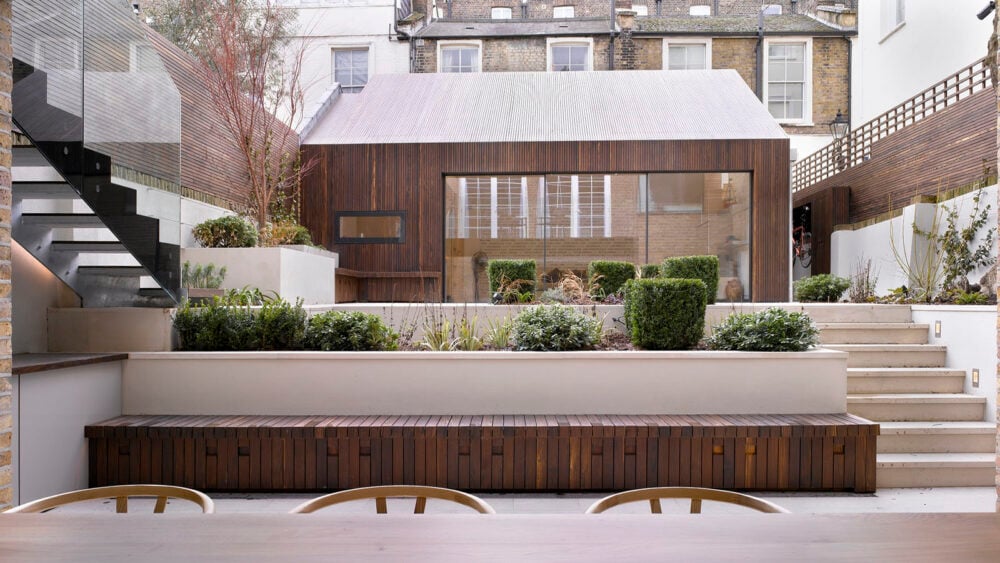 (Lateral House, by Pitman Tozer, photo by Nick Kane)
The Lateral House is an impressive remodel of a once shabby Victorian home. The new annex facing the garden is completely clad in vertical wood siding. Kebony is perfect for applications in which the vertical siding continues across the roof. The vertical pattern gives the annex a boost in height and also makes the roof seem taller as well. Although Kebony ages naturally, it is possible to use surface treatments to maintain the rich warm chocolate tones seen here.
6. A pair of perfectly weathered beach homes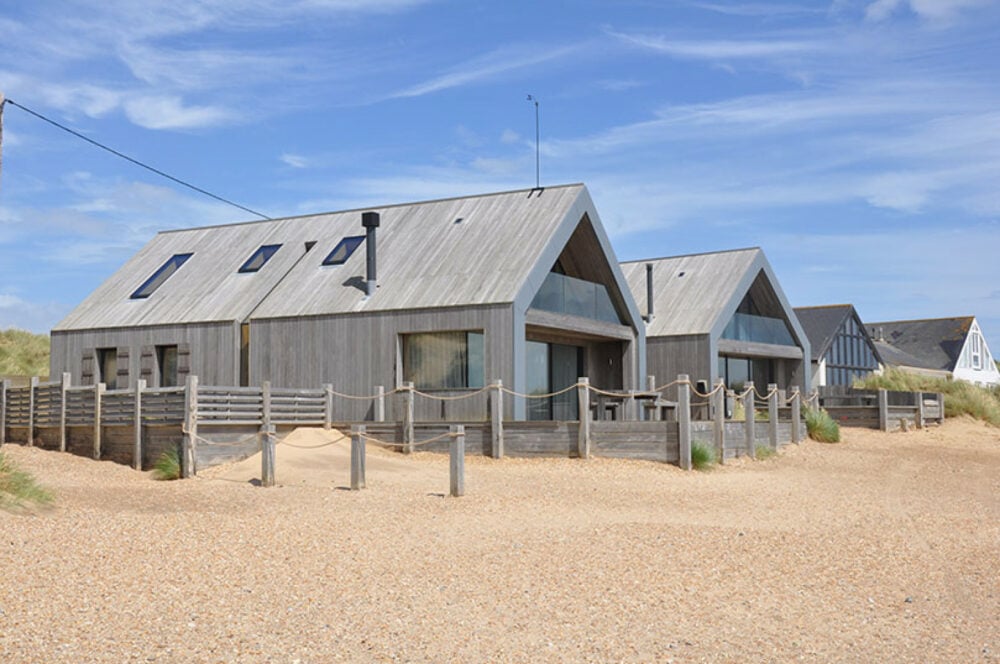 (Award-winning beach homes, by WAM Design, photo by Urban Front)
These two contemporary beach homes at Camber Sands have been weathered to perfection, thanks to the sea air and winds. Clad in vertical Kebony boards on the entire exterior, the lovely silver-gray patina is naturally how this material ages. The end result is a very smooth, sleek look. The choice of vertical over horizontal boards allows the side to flow naturally up to the roof and helps to make these houses look a bit more spacious.
7. Board-and-batten siding never gets old
(Naust på Aure, by TYIN Tegnestue, photo by Pasi Aalto)
This traditional Norwegian boathouse was given new life with classic board-and-batten siding. Board-and-batten siding is a very attractive approach to vertical cladding, though it is rare to see it carried onto the roof of a building as well. This cabin-like structure is quite eye-catching and the addition of artistic double-wide doors adds more texture and dimension. The use of Kebony wood ensures this building will age well and maintains a natural look against the landscape.
8. A gradient approach to vertical siding

(Oslo Boathouse, by TreStykker)
This unusual little boathouse is a great example of how versatile you can get with vertical wood siding. If you have an existing building, perhaps even a manufactured structure, you can easily place cladding over it to cover the exterior. The gradient slat design allows the white boathouse to peek through at the front and is fully covered at the rear. This type of approach is great for retrofitting where minimal construction or remodeling is desired.
9. A scandinavian passive house with dual tones
(Passive House, by Kontur arkitektur + konstruksjon, photo by Kontur, Lasse Haldrup Juul)
The passive house is a modernized version of a traditional Scandinavian Funkis-style home. The home is clad in Kebony wood and plays with color, by letting the vertical boards weather and yet maintaining the original color of the horizontal boards. The use of two different colors is possible with Kebony wood by using sealants. The end result is a beautiful contrast. Vertical siding placed on the main part of a home or building adds to its height while cladding smaller additions in horizontal balances it by adding width.
10. Angular beach shelter with captivating design
(Beach Shelter, by Millimetre)
This beach shelter offers a place for beach-goers and passersby to take a rest in a shady spot. This shelter has a very architectural, modern design made to seem even more intriguing with the use of vertical wood siding. The majority of this shelter has vertical boards, including the bench within. A touch of diagonal siding on the roof lip exaggerates the angle, as well.
11. Round building and vertical siding are a match
(Villa Circuitus, by Simone Kreutzer, Tommy Wesslund, photo by Anders Bergön)
The Villa Circuitus is a unique two-story round home. Round buildings can often look a bit small and stumpy in appearance, especially when they have a flat roof. However, going with vertical siding really helps give the building height visually and even makes it seem a bit larger than it is. When designing round buildings, seriously consider the idea of vertical board placement over horizontal.
12. Give your exterior texture with mixed vertical boards

(Retirement Home in the Arctic Circle, Q-haus, photo by Maris Tomba)
Vertical wood siding doesn't always have to be plain, flat vertical planks. This stunning retirement home located in the Arctic Circle is very dimensional in design. Kebony vertical boards cover the exterior, with the main faces being traditional vertical panels. However, on the recessed faces of the buildings the designer chose a board-and-batten pattern. This keeps with the vertical exterior, but really adds texture to the building that isn't possible with a uniform vertical pattern.
13. Beach clubhouse with a flat roof
(The Extendable Beach Club, by Selin Maner, photo by Julien Aksoy)
This building functions as a restaurant as well as an intimate concert venue. On the far side of the building is an extendable greenhouse. The entire building is clad in vertical Kebony wood, including the interior doors. The vertical placement adds a bit of height to the clubhouse and offsets the flat roof in a complementary way.
There are no rules when it comes to vertical wood siding. Typically builders desiring a more modern aesthetic and wishing for an illusion of greater height will find this siding pattern to fit their needs best. That being said, even the most modest of cabins can look uniquely attractive with vertical wood siding, while still maintaining a rustic appeal. Regardless of the vision you have in mind, you can make it come to life with vertical wood siding.